Turnstile Collection
The Dnipro Appeal was given permission to carry out a bucket collection at the Hibernian v Malmo match on Thursday the 25th of July. Thanks to an excellent response to our call for volunteers we had bucket shakers covering all routes to the stadium. A large crowd on the night was also a bonus.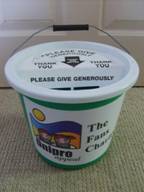 Now there were a number of records broken that night, some best forgotten, but the main one as far as we were concerned was the total amount of money collected by Dnipro Kids at a turnstile collection.
The final total was a staggering £2,345!
I cannot stress enough how important these collections are to the charity funds and how much of a contribution volunteers make to the ongoing efforts of the Dnipro Appeal charity .. so I'd like to say a huge THANK YOU to everyone that donated and a massive WELL DONE to all the volunteers that helped us reach this figure.
Tabachnaya Orphanage Update
It has now been confirmed that the Tabachnaya orphanage will also be closing before the end of the year. All of the sponsored children there will either be graduating to further education, transferred to the Topolinaya orphanage or transferred to smaller "foster" homes (as per the new Ukrainian policy for orphans).
We have already visited the Topolinaya orphanage, on a couple of occasions, and meetings with the director there have gone well. Dnipro Kids fully expects that our Child Sponsorship Scheme will be welcomed at this orphanage and we intend to support the kids here in the same we have previously.
Summer Trips
During the summer there were a number of events that were funded by Dnipro Kids, but the main ones were summer trips to the Galushkovka Cossack Settlement for both the Tabachnaya orphanage and for the orphanage kids now getting re-homed in their "foster" homes. The Tabachnaya orphanage kids were taken to the settlement on the 11th of June, with the "foster" home kids travelling a week later on the 18th.
Dniprokids currently has three home orphanages in its sponsorship program – Hasanskaya home orphanage, Svetlana's home orphanage and Yana's home orphanage. For 7 former Odinkovka orphanage children – Misha Tarasov, Tonya Tarasova, Lena Kotova, Tanya Kotova and Dima Kotov, Sveta Kozma and Vlada Rakita, summer trips, organized by Dniprokids for the last 5 years are already a good tradition, but for all the other kids it was something new, exciting and awaited for.
Galushkovka is a little private settlement- an imitation of a Cossacks' settlement called in an open field, away from any town or a city, and about an hour and a half drive from Dnipropetrovsk. "Cossack" translated from old Turks language means "a free warrior". In the 18th and 19th centuries serfs (slaves) who ran away from their masters were running to the free lands of Southern Russia. Here they became free warriors, protecting the boundaries of the Russian Empire from Turkish and Tatar invaders. Being "free" warriors the cossacks were considered the best soldiers of Russian Empire, and Empress Catherine the Second highly valued their military service as they were not afraid of anything or anybody. When Soviet rule collapsed in 1991, and Ukraine became a free independent country, an enormous amount of historic information about cossacks suddenly became open to the public. And on the back of this, places such as Galushkovka were built based on the information described in historic books.
When we arrived at Galushkovka we were met by Cossacks on horseback, who escorted the bus into the settlement. Then, as we got off the bus, we were greeted with a gift of bread (a symbol of life), presented on a Ukrainian towel for honoured guests.
We were then invited into the home of Cossack "Roman", who explained in detail to the children what it was like to live 200 years ago, in the times of the Cossack. The children listened intently.
Then Uncle Sergei introduced himself, and told some very funny tales of Cossack feats. He then moved on to the "serious" business of training to be a Cossack and explained about the forthcoming training tasks the children would be involved in.
The children loved all the Cossack "training", especially when they were able to ride a horse. There is no need even to tell how much, because you can see it in the photos!
At the end of the day the kids watched a horse-riding show, performed by Cossack "Katya" and her elder brother "Roman". They were shooting arrows and throwing spears whilst riding horses at a high speed. It was FANTASTIC! The kids really enjoyed this short show a lot! After training there is obviously a need for "warriors" to build up their strength with a hearty feast. Home-made vareniky with potatoes, Ukrainian shish-kebab with vegetable salad, and followed by fresh strawberries. It was freshly cooked, very tasty (especially for our kids) and all the plates were left empty! After the dinner we all thanked the hospitable owners for a wonderful entertainment program and left the Galushkovka Settlement heading back home to Dnipro.
All the staff at the Tabachnaya orphanage, and the foster parents of Hasanskaya, Svetlana's home and Yana's home and, of course, all the children say a BIG, BIG THANK YOU for the trip to all their sponsors back in Scotland.
Ira
Child Sponsorship
Due to policy changes and closures it has been a very difficult year in Ukraine, with every chance that there may be further changes in the coming months. With children being moved from one orphanage to another, and then some on to "foster" homes, we have had to concentrate all our efforts in following the tracks of these kids and trying to forge good relations with new orphanages and foster homes.
Because of this we apologise that there has not been as many of "individual" updates that you may have been used to in the past. (The exception to this is of course the birthday trips, where we still try and provide a more individual update with additional photos and details on their gifts.) We hope to rectify this, and get back on track, once there is a bit more stability in Ukraine .. and it is a bit clearer as to the longer term placement of the children.
Of course, the upheaval and the uncertainty that this is causing the children means that your support, and the funded trips, are now more important than ever to these kids. So please be assured though, that your Child Sponsorship donation is more important than ever in helping us do as much we can for their wellbeing and providing them with memorable trips and events throughout this difficult time.
If you have missed any of the updates involving your child, or would like an update on their situation and where they currently are (or may be heading to), then please email me directly and I will try to update you with as much information as I can.
For details about Child Sponsorship please email me directly at steven@dniprokids.com
Visit the Facebook page and add Dnipro Kids to your friends list.
www.facebook.com/dnipro.kids
Yours,
Steven Carr,
Dnipro Appeal Committee.